In the late 1980's and early '90's, Bobbie Brown was seemingly everywhere. She was crowned Miss Louisiana Teen USA, finished second runner up in the Miss Teen USA pageant, spent months on Star Search as the most prominent model in the show's history, was featured in music videos for artists ranging from Terence Trent D'Arby to Great White, and made one of the most popular guest appearances in Married With Children's long television run.

It was her playfully suggestive performance in the video for Warrant's 'Cherry Pie' however, along with her two high profile relationships that followed (with Warrant's Jani Lane and Motley Crue's Tommy Lee), that she is widely remembered for.

Brown has since written a successful book and starred in a reality television star series, but now defines herself by her recent foray into stand-up comedy.

In this conversation we discuss her new career, her feelings about Pamela Anderson, behaving badly at Kevin Costner's house, why she knew something was up with Milli Vanilli before the rest of us and how she influenced one of Bobby Brown and Whitney Houston's most important decisions.
---
Robert Ferraro: Bobbie, your book 'Dirty Rocker Boys' is immensely entertaining, has received really strong reader reviews, and sold very well (Brown has a new book due in 2019). There are plenty of heavy stories in it but it also has funny moments as well, like when you were riding in the back of your parents car and blasting Motley Crue's 'Theatre of Pain' album against your family's wishes. Your stepfather said it was terrible and you yelled, "But…this is the future!"

[both laugh]

Bobbie Brown: It was!

Robert: Well, it was definitely your future. At that point in your life did you believe that you would even meet the members of Motley Crue one day, nevermind be engaged to one?

Bobbie: Not in my wildest dreams. Although I used to do this thing which was pretty weird…it could have been manifesting even though I didn't really know what manifesting was at the time [laughs]…but I would say something out loud and it would often happen.

Robert: I don't doubt what you're saying, but if you're talking about your success in the Teen USA pageant and Star Search, the fact that you were strikingly beautiful may have helped. [Bobbie laughs] You were a very big deal on Star Search in particular, where you appeared a record 13 times, making you America's Sweetheart on that generation's American Idol.

Bobbie: I loved doing that show. I don't think a lot of people today understand how big it was at the time. And the best part about appearing on that many episodes is that they were syndicated, so they were always being played on repeats. It brought me a lot of attention and a lot of modeling and TV work. It's still frustrating that I didn't win the grand prize. I got to know everyone that worked there so well that they felt like family and when I didn't win it seemed like they were more upset than even I was.

Robert: One job you landed from Star Search would change your life drastically. Warrant lead singer Jani Lane saw you on the show and offered you what turned out to be the 'Cherry Pie' video, which you starred in to incredible success. Social media or TRL or smart phones didn't exist when the video was hot. How did you first realize that you were becoming a bit of a celebrity?

Bobbie: I would be out driving somewhere and people would drive like idiots to purposely pull up next to me and scream "Cherry Pie!" That's when I knew. [laughs] Like you said, there weren't any of these ways for people to reach out and communicate with you, so when fans saw me out somewhere they would have their only chance and act like it. Which was okay most of the time. Back then people recognized you for a specific reason, you know? They saw me on TV and there were only so many girls doing it. Now you can be internet-famous or Instagram famous, which blows my mind.

Robert: A lot of stars from your generation resent how accessible fame is now, because they became famous when it was more difficult to obtain. I'm sure some of it is plain jealousy, but there is also a feeling that people like you deserved it more because you had to answer for auditions and wait in line at casting calls and face the overall competition and rejection of the show business machine.

Bobbie: Oh, definitely. But I'm not resentful of anybody else's success through social media, as much as I am resentful of having to play the social media game myself by posting pictures all day long just so I can have enough followers in order to get work. Nowadays, people won't even consider you for a job if you don't have a certain amount of followers.

Robert: And your looks are your currency, so most of the pics have to be of you.

Bobbie: Exactly. It can get really stupid. And let's be honest, if I was willing to pose almost nude or make those pics sexually suggestive most of the time, I'm sure I would have significantly more followers. I just won't do that.

Robert: From reading the book and being aware of your present situation, I think your unwillingness to gain an easier life via men or their money is fairly obvious.

Bobbie: Very true. I didn't take anything from Jani in my divorce. I was making my own money at the time and I had too much pride. I've turned down $100,000 to sleep with a man. I've turned down a home. And many times, even if it's not said, I've been offered an entire lifestyle, you know? But that's not me. Now don't get me wrong. There have been low times in my life that I've looked back and thought, "You know, Bobbie, that $100,000 would look really good right about now. You've slept with people for a lot less." [laughs]

Robert: 80's supermodel Paulina Porizkova was an idol of yours while growing up, and you both ended up dating, marrying and having children with the lead singer of a band you starred in a video for. Now Paulina and Ric Ocasek have split like you and Jani had, but she occasionally makes public appearances with him. If Jani were alive today (Lane died of acute alcohol poisoning in 2011), could you see yourself having that type of relationship with him?
Bobbie: Absolutely. Before the last period where he went off the deep end, I suppose you could say he was doing really good. He was coming over and picking me up for lunch and he came with me to see a Dane Cook show and things like that. Whenever he was in town he would come and stay at my house, just as friends. I think we would have stayed in each other's lives for sure.

Robert: Do you have any regrets in regard to him?

Bobbie: Before he died he had asked to move in with me, and I said no. I was living with my boyfriend at the time and obviously felt that I couldn't have my ex-husband living with us. Looking back on that, I do have regret because it took a lot for him to reach out to his former wife and ask for something like that. I feel like I should have seen that more clearly as a cry for help.

Robert: You generally have nicer things to say about Jani than most other people you have had relationships with. I sense that having a daughter together or him passing away are not the only reasons.

Bobbie: No, you're right. It's because we genuinely liked each other as people. We did not have a very passionate relationship, but that worked for us because we didn't have an overly volatile relationship either, like he had with his second wife. The only reason that we separated was because I couldn't handle his drinking and everything that came with it, like his philandering. [But I never not cared about him or stopped loving him.

Robert: You lived most of the 90's immersed in celebrity, so I want to touch on a few of your encounters.

Bobbie: [cautiously] Ok…

Robert: You first met Pamela Anderson on the set of a Married With Children shoot. You often competed for the same modeling and television jobs, but you also competed for the same man as well. Pamela married Tommy Lee just days after he broke off his engagement with you, and that set you on a downward slide for awhile.

Bobbie: I'm a girl's girl. I would never date a married man or be with a man in a relationship because I feel like women need to stick together. We have more options than your average guy, so there's no reason to ruin someone else's situation. I don't have any animosity towards her now though. At the time I was pissed that she went out of her way to do some hurtful things to me, but so much time has passed and I'm a very forgiving person so I just try to appreciate that I am who I am today because these things happened. She's gorgeous and I wish her the best. I try to think the best things about people always.

Robert: You dated the late Rob Pilatus from Milli Vanilli. A lot has been written about their lip syncing and the overall con that was their act, but you actually have the best insight into the Milli Vanilli situation that I've ever heard. You said that the entire time you were with Rob, he never played music, wrote music, talked about music…

Bobbie: …he never played an instrument, never rehearsed. He honestly couldn't even speak English that well.

Robert: And when you headed out somewhere together and he sang in the car, he was tone deaf.

Bobbie: Yes, badly. I knew something was up but I didn't know to what extent because they kept a lot of things very secretive. I suspected that we were being put on in some way.

Robert: Were you in his life when they were found out?

Bobbie: No, we had stopped seeing each other at that point. He had a really bad drug problem which he ended up dying from and to be honest with you, he wasn't very good to me. Once we cut it off I had no interest in being in touch with him anymore.

Robert: Kevin Costner asked you out during the height of his career. You went to a party at his home and became a high maintenance guest [laughs]

Bobbie: I was! Kevin had recently separated from his wife and he was on the prowl to say the least. There were so many girls at this party in his house that I couldn't believe it. It was like Kevin, David Spade and then 200 beautiful women. [I kept carrying my purse from room to room and I remember Kevin continually saying to me, "You can set your purse down, Bobbie. You don't have to keep carrying it around, Bobbie", until I just threw my purse up in the air for no reason and everything inside of it went all over the room. Kevin just sort of backed away. He probably thought "This girl is f'n crazy."

Robert: That behavior makes zero sense. [laughs] Were you were drunk or high?

Bobbie: I believe I was high. Getting drunk was not my thing.

Robert: Here's the most famous and highest paid movie star in the world at that point…newly single and showing an interest in you…and you sabotaged it.

Bobbie: I don't know if it was my age or the substances or what, but I really didn't care. I was unimpressed by everybody.

Robert: Not true! You must have been impressed by the other Bobby Brown, because you invited him to your wedding.

Bobbie: We did. [laughs] I befriended him years earlier because I would go out dancing all the time and see him. Bobby came up to me one night and said, "Does Bobbie Brown want to dance with Bobby Brown?" or something really corny like that. I said sure, and we went on to become friends. At our wedding he asked me about my name and I explained that it came from my father (Bobby Gene). He thought that was great and told me that if he were to have a daughter one day he would also name her Bobbie, after himself. (Brown and wife Whitney Houston would later name their daughter Bobbie Kristina Brown).
Robert: Jani and Rob succumbed to substance abuse, as did Bobby's wife and daughter. You were not immune, as you dove into the deep end with speed and meth and all the problems that come with them. At one point your parents came out to L.A. to bring you home to Louisiana because you were in terrible shape. Another time you went back to Louisiana and were sleeping on your mother's porch, in a sleeping bag. Now, you look and sound very healthy. What is your relationship with substances at the moment?

Bobbie: I'm very good, but it's a never-ending process. At times I've fallen off the wagon for a minute, but I will never be the drug addict I used to be. Never. When I do drink it's celebratory and not a means to escape. At the time that I was using I was just trying not to feel, you know? I was pushing a lot of stuff down. I don't do that anymore. I allow myself to feel things whether they hurt or not, and I take them on. Drugs will never be in my life like they were.

Robert: At one point after the dust had settled a little, you took the first working stiff type job of your life. You did things like run errands, clean the kitchen and refill the water cooler. It was an admirable attempt, but you got fired for telling the boss off!
Bobbie: [laughs] I'm the person who is always nice to the waiter and I try to be nice to anybody and everybody. I feel like everyone deserves respect. But I was working for a misogynist who treated women like shit. Of course I'm going to make a scene and get fired!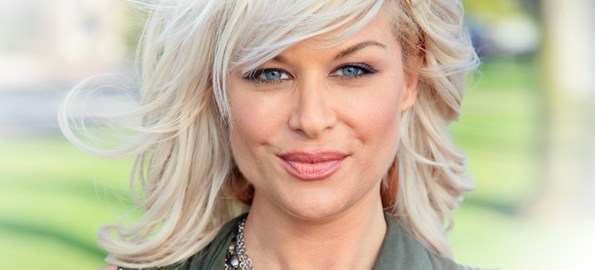 Robert: You once said that your looks weren't just your greatest asset, but possibly your only asset. Now you have become a successful author, you found new television success with the 'Ex-Wives of Rock' and you and your longtime friend Sharise Neil host a popular podcast. I'd be surprised if you still feel that way.
Bobbie: I don't. Awhile back I decided I wanted to reinvent myself after I had taken a very bad fall down the stairs and hit my head really hard against a table. My doctor said I was lucky and that it could have been a lot worse. But I still had black eyes for months and I looked hideous, so it made me take a hard, honest look at myself. I said, "Ok, Bobbie, you're almost 50. What the hell are you going to do going forward? You don't look like you did when you were 20, so you have to do something." I decided that if people were no longer going to know me for my face or my ass or anything else they knew me for, they were going to know me for my mouth. [laughs] I'm not saying that I'm ugly but I'm not as thin as I was and I'm aging and it's hard. I'm not really doing modeling work. I'm also not in a relationship and I don't have anyone taking care of me so I don't have a ton of money. I need to hustle.
Robert: You've certainly been hustling with your new stand up career. You've barely begun, yet you've already opened for Jamie Kennedy a few times.

Bobbie: I had a famous comedian tell me not to get involved in comedy because I would have to take a lot of hard knocks and work my way up in clubs for 10 years. That advice makes sense for someone my age, but I opened for Jamie in literally my 3rd show. I sort of unintentionally skipped past all of that struggle. [laughs]

Robert: I'd imagine it helps to have a niche that you can market yourself with.

Bobbie: It does, and I've found that comedians – who generally aren't supportive of each other anyway – are not eager to have their spots taken by a beginner. Especially after they've been there for so long. A lot of people aren't happy with me for doing this, but I try to ignore them and just stay focused. I want this. I went into comedy not just because I think I can make people laugh, but to be heard. To have a voice, you know?

Robert: Do you find that your audiences root for you to succeed because of who you are, or do you feel that they are tougher on you because of it?

Bobbie: That's a really good question. A little bit of both. I think the crowd on any given night takes on a personality all it's own regardless of who the comic is. I mean, there have been nights where I come off stage and say, "That was the worst experience of my life. It was horrible." But sometimes you don't gauge the audience well because you're too busy judging yourself while you're up there. I'll talk to people from the audience afterwards and they'll say they had a great time and everyone was laughing. In my head I wasn't hearing it that way.

Robert: Some of the successes you've had in your career didn't come with live audiences. Are you ever scared or nervous up there?

Bobbie: Yeah, it's terrifying! I honestly think I completely blacked out during my first two shows. I don't remember anything from them! [laughs]

Robert: Did someone teach you the finer things about stand-up before you jumped up there, or did you just run up there and do the Bobbie Brown?

Bobbie: [laughs] I went to see a friend of mine perform stand-up and he said, "You should really be doing this, Bobbie." People have said that to me over the years but I didn't take it seriously because it's one thing to be funny amongst friends, and another to be funny for strangers who are paying customers. I decided to take a stand-up course and after the second class my teacher said that I was ready to try it. He scheduled me at a club pretty much against my will, but I went up there and did my thing. He said, "You're a natural. I think this is a calling for you and you need to totally focus on this." So, I've been doing that.

Robert: Between your comedy aspirations and the hundreds of modeling and acting jobs you've done in the past, does it bother you that I'll likely use an image from the Cherry Pie shoot for this article because that's what most people associate you with?

Bobbie: There was definitely a time when I did mind. At this point, I accept that this is how people know and remember me and I welcome it. You and I wouldn't be talking to each other right now if it wasn't for that, right? So I've come to appreciate it.

Robert: So, if 50 years from now your obituary reads: "Bobbie Jean Brown, the Cherry Pie girl…" you'll rest easy?

Bobbie: I'll be good. But hopefully after 50 years it will mention something about me being funny as well!

---
Follow Bobbie on Instagram: @brownbobbie
Follow Bobbie on Twitter: @bobbiejeanbrown
Purchase Bobbie's book here: Dirty Rocker Boys
Listen to Bobbie and Sharise's podcast here: BobbieNSharise
---
A former producer of radio talk shows and Major League Baseball broadcasts, Robert Ferraro engages in conversation with pop culture figures. Recent guests include Melissa Etheridge and Paul Stanley, comedians Gary Gulman and Alonzo Bodden, and model Bebe Buell.